Eye Color Quad
图片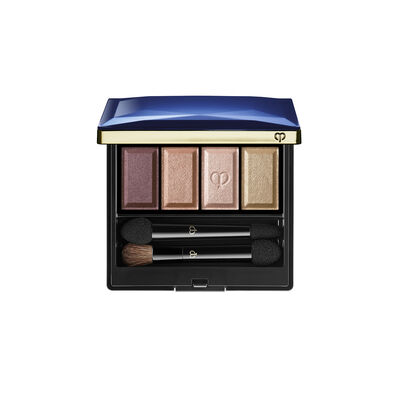 缩放
Eye Color Quad
/eye-color-quad/eye-color-quad-313.html
产品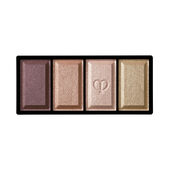 促销优惠
这一眼影系列色彩优雅并具有奢华护理功效,令双眸深遂动人。光线反射技术可强化眼部的自然轮廓。
主要功效
蕴含Clé de Peau Beauté独创的高级保湿成分Hydro-Wrap Complex EX。
融合摩洛哥坚果油,令唇部肌肤丰盈、幼滑、细腻。
经皮肤科和眼科医生测试
如何使用
以较宽的眼影刷沾取A色(最左侧的颜色),从上眼线描画至眼睑中间,突显眼睑的弧度。接着,描画整个眼线。
以眼影刷沾取B色(左起第二款颜色),从眼睑中间A色的上缘描画至眉毛下方靠外的三分之一处。
用较宽的眼影刷沾取C色(左起第三款颜色),沿整个上眼线描画至下眼线靠外的三分之一处。
用较小的眼影刷沾取D色(最右侧的颜色),沿整个眼线描画一条细线。
教程
轻柔别致的晚妆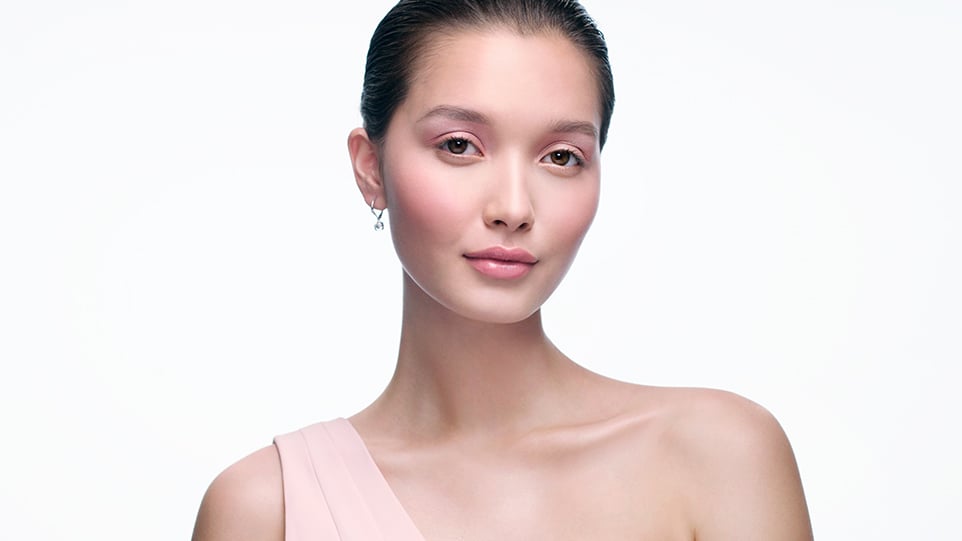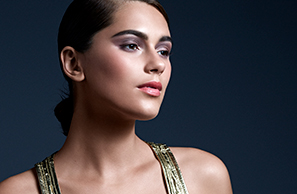 靓丽的中性色调眼妆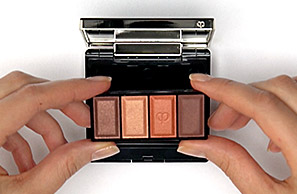 如何更换替换装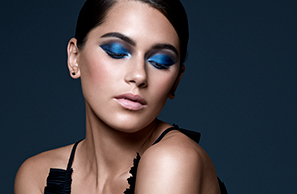 完美猫眼妆
推荐
问题
which quad color eyeshadow is the one with peach and brown colors?
Hi - are you thinking of Quad 313, or 301 possibly? We have a few photo references up top. Let us know if you need any further help by emailing concierge@cledepeaubeaute.com.
发表日期:2019-05-09
are any of the eye shadow quads matte only?
Hi there, thank you for your inquiry. Unfortunately, we do not produce matte eye shadow quads at this time. For any additional questions regarding product recommendations, please contact our online beauty specialist, Vanessa at Concierge@cledepeaubeaute.com. Thank you, Clé de Peau Beauté.
发表日期:2017-12-20
Hello! I have for you one question.Do u sending cosmetic to Germany?
bvseo_sdk, dw_cartridge, 16.1.1, p_sdk_3.2.0
CLOUD, getContent, 8ms
questions, product
评价
Eye Color Quad
评分: /
5
评论者
2
.
评分:

4

/

5
评论者
mm27
来自
It's more orange than brown
I use CDP eye shadows all the time. Donee are more sheer than others but this combo color showed well. The darker colors on both end show more bright orange tone than they look (rather dark brown & purple). So keep that in mind when you decide. I didn't quite like that outcome when I first tried since I was expecting more deeper brown. It look a while to get used to it. I feel okay now as the weather is getting nice hence the bright color reflect better in the strong sun.
发表日期:2019-05-28
评分:

5

/

5
评论者
ChicagoAde
来自
My favorite eye shadow!
By far! I have never been that into eye shadow - I have always felt like it was too much. This is different! It is so fine that it is more of a color wash than something that looks like it is sitting on your skin. That is not to say that the color has to be subtle - it seems to be very highly pigmented - for the color that I use in the crease, I just need to lightly touch the applicator to the color and that is enough for my fair skin and desire to have something as non-makeupy as possible. Seems like it will last forever (except for the light all-over shade, which I am going to try to find something similar to as a single). And speaking of applicator - when I first started trying out the eyeshadows I immediately bought a set of brushes (not CdP), but found that the applicators that come with this actually work better in my opinion! The foam feels really fine and soft rather than like the ones that you usually find included in compacts. Also - the color combos -- they put together some colors that I wouldn't expect to look good but everything I have tried is surprisingly great! My husband likes that I am now into doing a smokey eye -- sexy, he says! If you have noticed that I have done many reviews, it's because I have been using probably 15 products or more and finally realized that, while I don't generally write reviews, I should do so for these products because there really aren't enough reviews and most everything I have tried becomes a new favorite!
发表日期:2018-04-02
bvseo_sdk, dw_cartridge, 16.1.1, p_sdk_3.2.0
CLOUD, getContent, 11ms
reviews, product