图片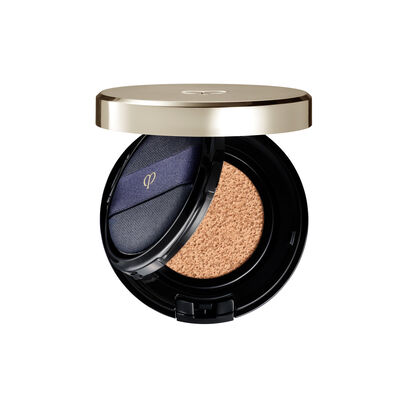 缩放
产品详情
/radiant-cushion-foundation/0729238155022.html
每次购物均可获赠免费试用装并享受免基本邮费优惠。
购物满150美元可享免费2日送达服务!
这款质地轻盈的保湿粉底提供轻薄到中等的遮瑕效果,打造自然水润的妆效。适合用于补水,方便随时补妆。
主要功效
质感轻盈的保湿粉底,提供轻薄到中等的遮瑕效果。
水润妆效清新自然,让您容光焕发。
响应性配方可抵御暗沉、褪色和积线,发挥一整天的遮瑕效果,并保持24小时水润。
持续使用可提亮肤色并改善肤质。
使用时尚的化妆粉饼和定制粉扑,全天修饰妆容并补充水分。
专门设计的粉扑配有宽丝带,可安全、细致、流畅地涂抹粉底。独一无二的多层设计可防止沾取过量粉底及在皮肤上涂抹过量粉底。
我们最好的中等遮瑕效果粉底,方便随时补妆。
经皮肤科医生测试
如何使用
在使用护肤产品或妆前乳之后涂抹粉底。
将粉扑在粉底上轻轻按压两或三次,充分沾取粉底。
将粉扑轻拍在皮肤上,从一侧面颊中间开始,并移动至其他部位,直至涂抹半侧脸颊。以同样方式在另一侧面颊上涂抹。
将粉扑一折为二,或用手指将粉底涂抹在眼、鼻及需要精准上妆的其他部位。
要获得最佳上妆效果,请用温和的洗涤剂和温水轻轻揉搓粉扑,保持粉扑清洁。彻底冲洗粉扑,并轻轻挤出水分。待粉扑干燥后再使用。
问题
I want to purchase medium ochre, which number is that?
Hi - in which product do you use medium ochre? For instance if it's in 'The Foundation' you'll use 020 in this product. 030 is 'medium ochre' but to accurately shade match - click underneath a shade and click 'Find Your Shade' it will ask you to choose a brand + shade that you currently use, even CPB, and will guide you to the perfect match. If for some reason that shade doesn't work out, we offer free exchanges. Our priority is finding you the best fit. Don't hesitate to reach out at concierge@cledepeaubeaute.com if you have any further questions.
发表日期:2019-12-10
Hi, im of neutral undertone. Which swatch is good for me for the radiant cushion 
Hi, thanks for your inquiry. We can't completely be sure because we can't see your skin tone. Our product photos are accurate - if you decide to choose based off of best judgment and comparison, know that we will work with you to exchange for another shade if need be. Our priority is making sure you get the best one for you! You can also email us at concierge@cledepeaubeaute.com with more information (such as the color you may use in a current foundation, etc.) and we will match it for you!
发表日期:2019-09-12
I'm looking for a medium color foundation. It looks like possibly B10, I10 or O10. Can you suggest one?
Hi - I believe you're in a good range for a medium color. As I'm not sure of your undertones, I can't be certain what your best fit would be so you may have to use your best judgment to decide which undertone suits you the best. We want to help you find your shade though, so if you'd like to reach out to someone directly you can contact concierge@cledepeaubeaute.com. Keep in mind we do offer free exchanges so we will be able to ensure you get the right shade.
发表日期:2019-05-09
I use the Ocher in the stick foundation, what should I use with the sponge foundation?
Hi Janice, O20 would most likely be your best fit. You're welcome to email us if you need help with this further at concierge@cledepeaubeaute.com.
发表日期:2019-05-09
what shade to get? my usual CDP foundation is 030/040 and ochre concealer
From whichever on that spectrum you see fit - we would recommend one shade darker as this runs a little darker. If you need any further help with this please feel free to email us at concierge@cledepeaubeaute.com. We offer free exchanges, so we will make sure you get the right one. Thanks for your inquiry!
发表日期:2019-05-09
I need a foundation that has pink in it.  Will the B20 cushion foundation be the right color ? I use your 030 in refining fluid foundation.
Hi Pegetha, B20 will have more pink in it than O. We'd suggest you try B20. We offer free returns and exchanges should there be any issue, we'll make sure you get the right color. Let us know if you need any further help. concierge@cledepeaubeaute.com
发表日期:2019-05-09
Hello there, I am a B20 for the Radiant Powder Foundation. May I know what shade will you recommend me for the Cushion Foundation? It seems that most reviews are recommending 1 shade lighter. Thanks, Tobi
Hi - yes, we'd recommend B10 as it does run a little darker. If there is any way we can assist you further, please feel free to email us at concierge@cledepeaubeaute.com. Thank you for your inquiry!
发表日期:2019-05-09
What color would I need if I wear Chanel #40 beige
Hi - thank you for your inquiry! We would love to help you find your shade. You are also welcome to email us directly at concierge@cledepeaubeaute.com for further help with this. Thanks again!
发表日期:2019-05-07
bvseo_sdk, dw_cartridge, 16.1.1, p_sdk_3.2.0
CLOUD, getContent, 192ms
questions, product
评价
Radiant Cushion Foundation
评分: /
5
评论者
16
.
评分:

1

/

5
评论者
Stacey049
来自
Terrible Customer Service
After spending thousands on your products at Neiman Marcus, I tried ordering from you directly online as you had the 20% off. What a joke and a mess. I have spent over two hours trying to not only correct my mistake, but then one that your online rep did (completely changed the product). When I noticed it was wrong, and another 30+ minutes later, the other two tells me she can't amend my order (but the first girl could). Apparently consumers time means nothing to your company and maybe I need to switch to La Mer line.
发表日期:2019-12-02
评分:

5

/

5
评论者
Snowwhite45
来自
Perfect Look Every Time
I love a good cushion foundation and Cle de Peau Beaute has the perfect one. I like it because I can use as little as I want for a sheer look or I can build the application for more coverage. This is one of the best that I've used. Thank you Cle de Peau Beaute!
发表日期:2019-08-31
评分:

4

/

5
评论者
Remi
来自
Dewy Glow
Quick and easy to use. Gives your skin a hydrated, dewy glow. I wish it came with a refill, but the product and case are beautiful.
发表日期:2019-08-30
评分:

5

/

5
评论者
Tami938
来自
Great coverage with incredible skin care
I bought this over a month ago and have been using it for some time now. The coverage is incredible for a cushion! It covers so much better and is so much smoother than Amorepacific & Dior cushion. Those are the only other cushions I've tried but they really don't compare. Even though it's a but it pricier, but you need to use less because the foundation is sooo good. The cushion lasts way longer before refill is needed than the other brands. STRONGLY RECOMMEND. It really is the best for every day use, and for touch ups as well!
发表日期:2019-07-31
评分:

5

/

5
评论者
kklum072
来自
Best fundation product ever
I have been looking for perfect foundation product for a long time and this is definitely the best one I have ever used:) Love it. Already got 3! Only shortcoming is one pack will only last for around 2month.
发表日期:2019-07-30
评分:

5

/

5
评论者
gingi
来自
makes me look younger!
I had a makeup specialist put this on me so I bought it. It is so nice. I feel it actually gave me lift and reduces my wrinkles. I was told it has some of those anti aging ingredients in it. Sometimes I forget to wash my face and with this on I hope it is still working until I take it off!!!
发表日期:2019-07-15
评分:

5

/

5
评论者
Pat L
来自
Glowing skin perfect for hotter climate!
I bought this last month to use during my vacation in Thailand. I use the Foundation on normal days but did not want to carry a heavy jar on around my vacation. This works perfect for hotter climate. I get glowing skin but NOT oily. It lasts all day long without touching up. I would recommend this cushion foundation esp for 'on the go' days.
发表日期:2018-12-22
评分:

5

/

5
评论者
Chang
来自
Best foundation ever!
I have used many different foundations by different brands. This is by far the best one ever! it's easy to use, blends in easily and immediately, and it gives enough coverage. And most importantly, it looks super natural. This is the foundation that has everything one wants in a foundation.
发表日期:2018-12-17
bvseo_sdk, dw_cartridge, 16.1.1, p_sdk_3.2.0
CLOUD, getContent, 99ms
评价,产品