每次购物均可获赠免费试用装并享受免基本邮费优惠。
购物满150美元可享免费2日送达服务!
这款具备深层补水功效的抗衰老润唇精华令秀唇重现饱满丰润的青春活力。
主要功效
含有强效保湿成分Illuminating Complex,可带来光彩照人的肤色。
使用后可瞬间为双唇带来水润、柔美的娇嫩色泽。
提升弹性和紧致度,同时提供软化与舒缓功效。
呵护秀唇,并借助于按摩打造出更加青春亮丽的娇艳唇色。
通过充分补水保湿,令双唇长久保持美丽性感。
奢靡嫩滑的涂用感,立即带来水盈弹性。
配方中含有Clé de Peau Beauté独创的Cellular IC Normalizer成分,能使细胞离子通道系统达到最佳状态。
如何使用
作为早晚护肤程序的最后步骤。
从管中挤出足量精华,从嘴唇中间向两边均匀涂抹于双唇。
使用特别造型的化妆棒,以小圈状动作轻柔按摩双唇。从嘴唇外角开始向内按摩。
Illuminating Complex EX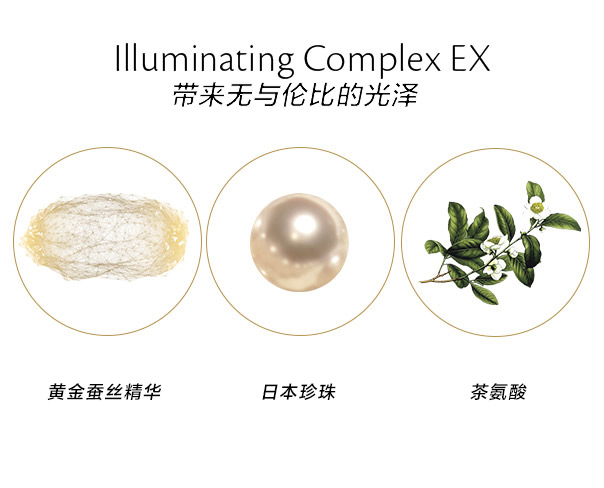 主要成分
黄金蚕丝精华
保持肌肤清透亮泽、丰盈柔滑。
日本珍珠
令肌肤如绸缎般光滑。
茶氨酸
匀净肤色。
黄芩萃取精华
这种传统的草本成分素有美容之名。
产品成分探秘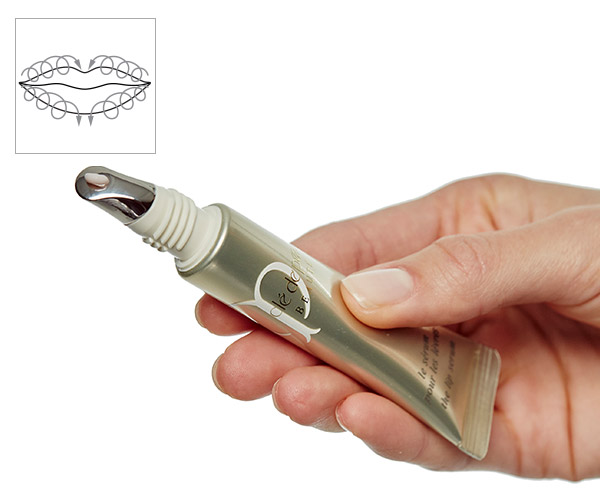 产品成分探秘
独有的精华成分辅以金属化妆棒,为双唇带来舒爽清凉的感受。
用金属唇刷以小圈状动作轻轻按摩,使本品渗入肌肤,打造更加轮廓分明的丰盈双唇。
从嘴唇外角开始向内涂抹。
推荐
问题
Hi, just wonder are all of your products pregnant safe? Thank you
Thank you for contacting us. There is nothing we take more seriously than the safety and well-being of our customers. We are committed to using top quality ingredients with the highest level of purity, and all of our formulations undergo rigorous quality, health, and safety testing. If you have any personal concerns about the use of specific products during pregnancy, we suggest consulting with your physician. Please let us know if we can be of further assistance at concierge@cledepeaubeaute.com.
发表日期:2019-09-10
This a primer?
Hi Elizabeths, Our Lip Serum is a deeply hydrating anti-aging lip moisturizer that promotes resilience and the look of shapely contours for lips that appear plump and filled with youthful vitality. We recommend applying this at the final step of your morning and evening skincare regimen. If you're seeking a lip primer, we recommend our Lip Glorifier. You can shop this here: http://bit.ly/2N5decC. Thank you, Clé de Peau Beauté
发表日期:2018-11-12
I am looking for an extremely nourishing and moisturizing item for my lips. Due to cancer almost 5 years ago, I do not have the salivary glands needed to keep my lips moist. I have tried everything. Which lip treatment would you recommend? And why?
Hi there, thank you for sharing your story with us. We recommend our lip treatment which is an advanced hydrating formula that restores plumpness and radiance to even dry, chapped lips. It contains superb revitalizers like, Retinyl Acetate to nourish chapped, peeling lips. You can learn more about this product here: http://bit.ly/2D6CjP8. Should you require further assistance regarding product recommendations, please contact our online beauty specialist, Vanessa at Concierge@cledepeaubeaute.com. Thank you, Clé de Peau Beauté.
发表日期:2017-12-19
Is this a lip plump?
Hi- Our lip serum is deeply hydrating and designed to promote the look of shapely contours to the lips to appear more plump and filled with youthful vitality.
发表日期:2017-01-24
Does this lip serum promote the growth of collagen in the lips 
Hi- Thank you for contacting us. The Clé de Peau Beauté lip serum helps promote a plumping effect to improve the look of fullness of your natural lip contour.
发表日期:2016-08-16
What is this scent of the lip serum....I just love it....it's soothing and pretty all at once!!
bvseo_sdk, dw_cartridge, 16.1.1, p_sdk_3.2.0
CLOUD, getContent, 125ms
questions, product
评价
Lip Serum
评分: /
5
评论者
13
.
评分:

5

/

5
评论者
Delta
来自
Works wonders
This was my second order. A little goes a long way so the purchase is well worth the price.
发表日期:2019-09-26
评分:

5

/

5
评论者
Remi
来自
Skincare Staple
I wanted something to help with my dry lips and a little treat to splurge on for myself, and settled on this lip serum, not knowing what to expect. This sinks right in, and plumps up your lips but not in the traditional lip-plumper way. There's no burning - your lips just look plump and hydrated. At night I follow with a heavy balm and it's been working wonders.
发表日期:2019-08-30
评分:

5

/

5
评论者
SkiBum85
来自
Cracked and dry lips no more!!! Awesome product.
Whenever I get slightly dehydrated and my lips feel like they're peeling off or about to, I use this product. It heals and moisturizes, while slightly plumping the lips for a sexy look. It is a go-to product for me.
发表日期:2019-07-30
评分:

5

/

5
评论者
beautysays
来自
It's good but quite expensive
Has a slightly menthol affect, which was unexpected. This leaves your lips sort of refined looking. It isn't going to be super moisturizing but it does seem to retexturize in a subtle way. It is a nice product but I don't use it daily, bc of the price tag.
发表日期:2019-07-17
评分:

5

/

5
评论者
LindsayA
来自
great
I love this, I have bought it three times now. Perfect lip base , I use it every morning. I love this and have found it to be a necessity in my daily routine.
发表日期:2019-06-20
评分:

5

/

5
评论者
Azurae
来自
Awesome
I was recommended this during a Makeup by another brand. It was used and I called on Monday after and had it sent. It works so well for me. I wear it every day even when I'm not going to wear lipstick or gloss!
发表日期:2018-09-29
评分:

5

/

5
评论者
gold
来自
Another Favorite!
Love this Lip Serum...really has improved my lips. I was having a slight discoloration on my lips and dry lines....that no lip balms or moisterizers were fixing. So I tried this, works amazing! Now my lips are full and beautiful! Another beautiful product from Cle de Peau!
发表日期:2018-01-23
评分:

5

/

5
评论者
Francesca
来自
Best lip product ever!
This lip serum is simply amazing! My lips get dry and flaky easily. All I need to do is apply a thick layer of this serum on my lips and both corners of my mouth before I go to bed, I'll wake up the next day with soft non-flaky lips! The minty sensation takes a little while to get used to but I liked it after a few uses. I just purchased my second tube!
发表日期:2017-06-20
bvseo_sdk, dw_cartridge, 16.1.1, p_sdk_3.2.0
CLOUD, getContent, 102ms
评价,产品