图片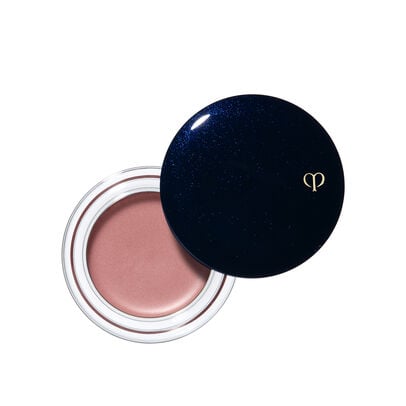 缩放
产品详情
/cream-blush/0729238133723.html
每次购物均可获赠免费试用装并享受免基本邮费优惠。
购物满150美元可享免费2日送达服务!
这款奢华而保湿的腮红膏含有摩洛哥坚果油,令双颊呈现莹润亮泽的一抹嫣红。用指尖或化妆刷涂抹。
主要功效
独特而舒适的质地,触感柔滑,极易涂抹,塑造顺滑轮廓,并可牢固贴合肌肤。
采用三种油分(低粘度油、中粘度油、挥发油)混合配制,令面颊光润,呈现美丽、透亮的色泽。
摩洛哥坚果油和Hydro-Wrap Complex提亮成分为肌肤补充水分,带来柔嫩、丰润的肤质。
Light Diffusing Powder和Pure Chromatic Pigment带来自然、色彩明艳的妆效。
呈现光彩动人的妆效。
Focus Powder为肌肤增添一抹自然的嫣红。
柔滑质地,极易抹匀
4款美丽颜色可选
特色玫瑰芳香
经皮肤科医生测试
问题
I'm an Auburn redhead. Best colors are warm— brown/rusts. Also do really well with sages & khakis. Which blush color would you recommend?
Hi Linda! We'd recommend blush #4. We think it'd be perfect with your coloring. Thank you, Clé de Peau Beauté Beauty Concierge
发表日期:2019-10-17
Is the red 30 a dye.  I am allergic to something in powder blushes and was hoping yours was formulated without dyes.  I develop tiny blisters where I place the blush.  Has this been reported in your product.
Thank you for contacting us. There is nothing we take more seriously than the safety and well-being of our customers. We are committed to using top quality ingredients with the highest level of purity, and all of our formulations undergo rigorous quality, health, and safety testing - but in regards to your allergy, we recommend taking the safe route and not using this product.
发表日期:2019-09-10
I am considering purchasing one of your blushes. I prefer a pink rather than a peach color. How do I know which color suits me best?
Hi Lorraine, thank you for inquiring. If you prefer pink, I would suggest our Cream Blush in "Pale Fig." If you have any other questions regarding our blush or any other products, please feel free to email us at concierge@cledepeaubeaute.com.
发表日期:2019-05-07
Which color for cream blush is best for me when I have blonde hair, green eyes and fair to beige skin please? Thank you- Heather
Hi Heather- cream blush in #4 is a universal favorite but if you are looking for a little more color, I would suggest #3 with your coloring. If you have additional questions, we can help you over at concierge@cledepeaubeaute.com. Thank you!
发表日期:2019-05-06
Can you tell me which of your cream blushes are considered a cool tone? I am considering  the Cranberry? Pale Fig looks a little bright for me and Perfect Peach sounds like a warm shade but it looks cool toned online. Would appreciate any assistance.
Hi Bogs, Thank you for sharing your inquiry with us. According to the information you've provided, we recommend shades 2 and 4 in the Cream Blush. Thank you, Clé de Peau Beauté.
发表日期:2019-01-07
When will the color four be available? number#4 Thank you
Hi Jiatong, Thank you for sharing your inquiry with us. Our Cream Blush shade 4 will be available by the end of next week. Thank you, Clé de Peau Beauté.
发表日期:2018-11-01
Which color is best for clear winter skin tone
Hi Kerrie2, Thank you for your patience for awaiting our reply. We recommend shades 2 Pale Fig or 4 Perfect Peach. Thank you, Clé de Peau Beauté.
发表日期:2018-09-06
Which color would be closest to a rose color?  I would prefer a cool color rather than a warm color.  
HI Teri, Thank you for taking a moment to contact us. According to the inquiry, we recommend shades 1 or 2 in our cream blush. Should you have additional questions, we welcome you to contact our online beauty specialist, Vanessa at Concierge@cledepeaubeaute.com. Thank you, Clé de Peau Beauté.
发表日期:2019-09-30
bvseo_sdk, dw_cartridge, 16.1.1, p_sdk_3.2.0
CLOUD, getContent, 13ms
questions, product
评价
Cream Blush
评分: /
5
评论者
24
.
评分:

5

/

5
评论者
jackie3
来自
Moisturizing and pigmented
I have 102. It is beautiful on my asian color skin. Looks like 5 years younger and feels like a teenager when I put it on
发表日期:2019-10-11
评分:

5

/

5
评论者
Susy
来自
I bought the beautiful blush approximately 2 months ago. It is truthfully the best blush/makeup product I have ever used. It blended beautifully, looked very natural, and helped my skin look younger. There are no makeup products that could ever exceed the quality of this brand.
发表日期:2019-08-30
评分:

4

/

5
评论者
Remi
来自
Buttery
Lovely cream blush. Provides the perfect amount of pigment - so many Cream blushes just disappear but this one blends into the skin for a natural yet noticeable flush. Last quite a long time on the skin (around 8 hours on my normal skin) and since you don't need a lot, the container will last you a long time. I use mine with the Clé de Peau blush brush and it's perfect.
发表日期:2019-08-30
评分:

5

/

5
评论者
Kasia
来自
Looks so natural when on your cheeks!
This cream blush provides a beautiful glow and has staying power to last all day!
发表日期:2019-08-30
评分:

4

/

5
评论者
hjilla
来自
Sold. Please never discontinue!
Never used a cream blush before because I thought it would look cakey. This goes on very light and blends easily. My skin is on the dry side so I thought I'd try something other than powder. Great move!
发表日期:2019-07-31
评分:

5

/

5
评论者
taffy
来自
Lovely Cream Blush
I am so pleased with my cream blush. It is so easy to apply; either with a brush or fingers. The color, #3, is a beautiful shade with my fair skin and looks very natural. This is my first time with cream blush rather than powder, and I find it to be a good investment.
发表日期:2019-07-30
评分:

5

/

5
评论者
Patti B
来自
Best Cream Blush ever!!!!
I have tried many cream blushes and this is by far the best I ever used. It gives a nice radiance without being sparkly. It lasts all day and everytime I wear it I get compliments.
发表日期:2019-07-30
评分:

5

/

5
评论者
CinC
来自
Cream Blush Cranberry
Good quality cream blush it gies on smoothly. Love it!
发表日期:2019-07-30
bvseo_sdk, dw_cartridge, 16.1.1, p_sdk_3.2.0
CLOUD, getContent, 7ms
评价,产品